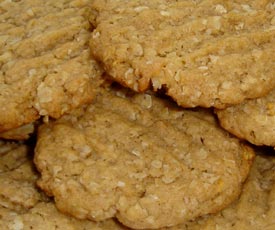 2 Cups Coarsely
Crushed Corn Flakes
4 Pkgs Instant Oatmeal
(any flavor)
1 Cup All Purpose Flour
½ Cup Butter
½ Cup Brown Sugar
¼ Cup White Sugar
¼ tsp Baking Powder
½ tsp Baking Soda
1 TblSp Milk
1 Egg
In a large bowl, mix together Butter, Egg, White Sugar and Brown Sugar. In a separate bowl, combine Flour, Baking Powder and Baking Soda. Add Flour mixture to Butter mixture. Add Milk and stir until all ingredients are well combined. Add crushed Cornflakes and Instant Oatmeal. Stir until mixture forms a dough. If needed, use hands and/or add another tablespoon of milk. Roll pieces of dough into 1½ inch balls and place on an ungreased cookie sheet leaving enough space between each for them to expand. Using a fork, flatten each ball to about ½ inch. Bake at 350 degrees for about 10 minutes or until light golden brown. Makes about 2 dozen.