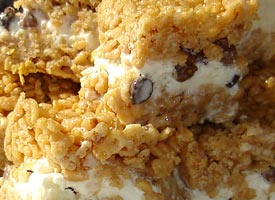 6 Cups Rice Krispies
1 Cup Corn Flakes
4 Cups Vanilla Ice Cream
1 Cup Chocolate Chips
¾ Cup Butter or Margarine
¾ Cup Peanut Butter
¾ Cup Honey
Finely crush Cornflakes and spread along bottom of a greased 13 by 9 inch pan. This is to make it easier to cut bars out when finished. Melt Butter in a large saucepan. Add Peanut Butter and Honey and stir until it begins to boil. Remove from heat. Add Rice Krispies and stir until cereal is well covered. Pour and spread half of the cereal mixture into pan. Sprinkler half of the chocolate chips evenly across top. Cover with Ice Cream. Sprinkle remaining chocolate chips. Top with remaining cereal mixture and freeze for about an hour or until set. Cut into squares. Makes about a dozen.
* An alternative dessert could be to pour the hot Rice Kripsies mixture onto bowls of icecream and serve as single serving sundaes.