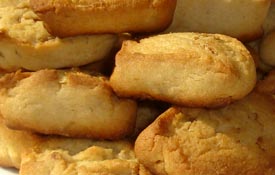 ½ Cup All-Bran Cereal
1½ Cups Flour
1 tsp Baking Powder
1 Cup Brown Sugar
½ Cup Butter
¼ tsp Vanilla Extract
1 Egg
In a large mixing bowl, combine Flour and Baking Powder. In a second bowl, using a fork mix Butter and Brown Sugar until it forms a paste. Add Egg and Vanilla Extra. Mix well until smooth. Add All-Bran Cereal and Flour and stir until combined ingredients forms a dough. Use hands if needed.
Using half the dough, roll and shape into a log about 1½ inch thick. Roll and wrap in wax paper and refrigerate overnight. Repeat with remaining half of dough.
Cut discs off logs about ¼ inch thick and place on greased cookie pans. Bake at 400 degrees for about 10 minutes or until golden brown. Allow to cool and serve. Makes about three dozen.
Optional : Add ½ Cup of Walnuts, Macadamia Nuts or Chocolate Chips at the same time you add cereal for added flavor.